Sonoma Cider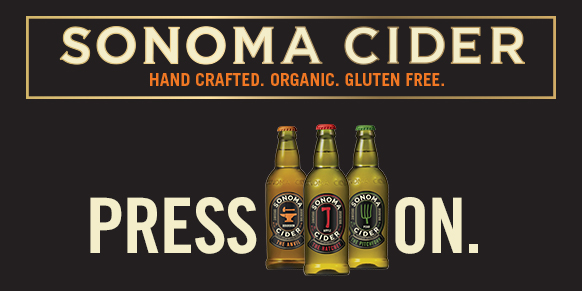 Our aim: make a better cider. Elevate the craft. Go beyond today's one-note wonders to something complex, flavorful, amazing.
The mentor here is David Cordtz, for over two decades a leader of the modern American cider renaissance. He's now joined forces with son Robert, artisanal beverage guru Fred Einstein, and a merry band of hand-craft revivalists.
A few cornerstones, if you will:
Crafted. Not as in draft horses and antique wooden presses, but in hard-core fanatics working with sweat, love and passion on a human scale.
Indulgent. What the cidermaster wants, the cidermaster gets. Or anyone else with a hunch worth exploring, The most interesting cider apples on earth? Check. The roll-out schedule? As long as it takes to get it right.
Organic. Not select editions. Every cider. From the furthest Fuji branch to the last curve of the bottling line. Only compact, concentrated apples grown in healthy soils will do.
American. Cider once ruled this country. Johnny Appleseed was real, but his real aim was cider. Americans once hoisted 35 gallons a year, and it's our goal to reclaim this mantel. And make something worthy of a new generation of explorers.
All of the above is no cakewalk.
http://vimeo.com/109142571#embedllscreen allowfullscreen>
The Dad, David, is a noted Sonoma craftsman, pedigreed in wine, sparkling juices, hard cider, even kombucha. His passion is coaxing magical drinks from naturally grown fruits for discerning palates.
The Son, Robert, is from, well, another school. The "what the hell" one. The restless, tinkering, damn-the-blueprint academy. His mantras include: Think sideways. Honor, (but challenge), thy father.
This combustible mix has created a vibrant petri-dish of respect and rebellion, revolution and refinement. Tension? Uh, yeah. Nothing happens easily here. But easy never raised the bar.
-----
Click here to Download a PDF of our latest Sonoma Cider sell sheet with more product information.
Father and son team, David and Robert Cordtz have brought their unique skills together to create Sonoma Cider's Winter Mix Pack.
See Sonoma Cider Cidermaster David Cordtz's interview with CNBC here. 
Available Products
The Hatchet Apple
CSPC #769849
The Pitchfork Pear
CSPC #769850
The Anvil Bourbon
CSPC #769851
Sonoma Cider Winter Mix 4-Pack (650mL Bottles)
CSPC # 785561